This Dragon dildo features a tapered flared tip, a straight shaft with rows of ridges running down to a wide knot and down to a flared base.
4 Sizes to fit any adventurer
X-Small
Small
Medium
Large
3 firmness options to choose from, this may feel firmer with bigger & thicker toys.
Super Soft 00-20 - Feels similar gummy candy

Soft 00-30 - Feels similar to a gel insole.

Medium 00-50 - Feels similar to a rubber eraser
Customize to fit your fantasy with a wide variety of colors and pour styles to chose from.
This is a hand poured made to order item, production time may vary.

All of our fantasy adult toys are made with body safe platinum cure silicone and ship discreetly in a plain brown box!
Please review our Shop Policies before purchasing
Sizing
Approximate Measurements
X-Small Dragon:
Head Base Circumference: 4.25" / 10.8cm ; Avg Diameter: 1.35"
Shaft Circumference: 4" / 10.4cm ; Avg Diameter: 1.30
Knot Circumference: 5.5" / 14.2cm ; Avg Diameter: 1.78"
Above Base Circumference: 4" / 10.2cm ; Avg Diameter: 1.28"
Usable Length: 5.5" / 13.9cm
Total Length: 6.25" / 15.8cm

Small Dragon:
Head Base Circumference: 5.375" / 13.6cm ; Avg Diameter: 1.70"
Shaft Circumference: 5.125" / 13cm ; Avg Diameter: 1.63"
Knot Circumference: 6.875" / 17.5cm ; Avg Diameter: 2.19"
Above Base Circumference: 4.625" / 11.7cm ; Avg Diameter: 1.47"
Usable Length: 6.875" / 17.5cm
Total Length: 7.75" / 19.6cm

Medium Dragon:
Head Base Circumference: 6.25" / 15.9cm ; Avg Diameter: 1.99"
Shaft Circumference: 5.875" / 14.9 cm ; Avg Diameter: 1.87"
Knot Circumference: 8.125" / 20.6cm ; Avg Diameter: 2.58"
Above Base Circumference: 5.5" / 13.9cm ; Avg Diameter: 1.74"
Usable Length: 7.5" / 19cm
Total Length: 9" / 22.8cm

Large Dragon:
Head Base Circumference: 7.5" / 19cm ; Avg Diameter: 2.38"
Shaft Circumference: 6.875" / 17.5cm ; Avg Diameter: 2.19"
Knot Circumference: 9.25" / 23.5cm ; Avg Diameter: 2.94"
Above Base Circumference: 6.5" / 16.5cm ; Avg Diameter: 2.07"
Usable Length: 8.875" / 22.5cm
Total Length: 10.5" / 26.6cm

Color Chart
Pour Styles
To see more info about our pride pours please visit our blog post here: Pride Pours Are Here!!!

Standard Pour Styles
Split : The shaft will be the first color choice, and the base or slightly above will be another.
Swirl :  Your two color choices are swirled from top to bottom of the pour.
Marble Fade : Color 1 of your choice will be at the top, with a slight marble as it fades into color 2.
Marbled Swirl : The colors are Swirled, with a decent amount of marbling happening, as well as some overlap.
Full Marble : The two colors are marbled Randomly throughout the whole monster.
Surprise Me : Give us colors you like and don't like, and we will pick a pour style for you! 
by The Wandering Bard, specializing in premium sex toys since 2019.
Regular price
Sale price
$65.00 USD
Unit price
per
Sale
Sold out
View full details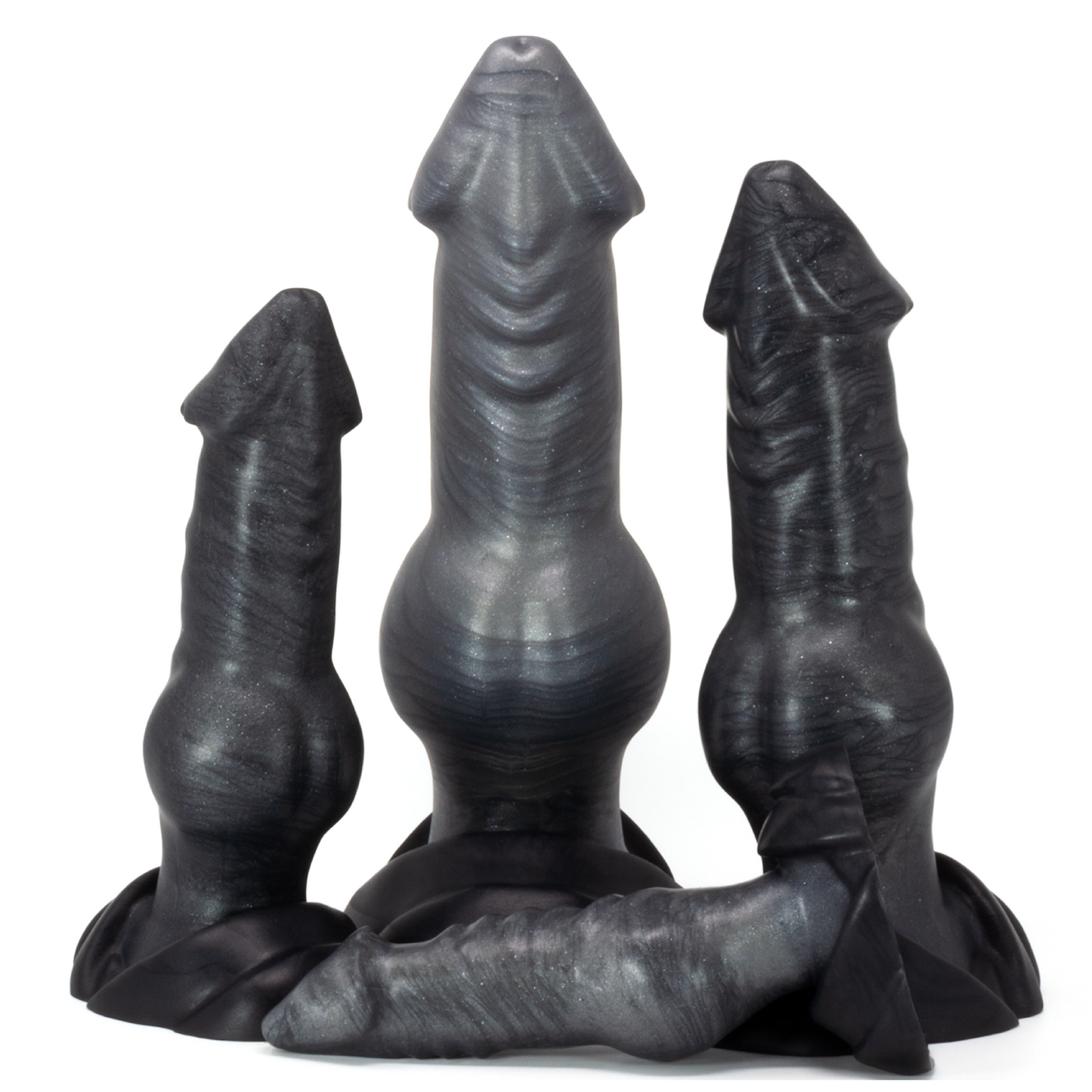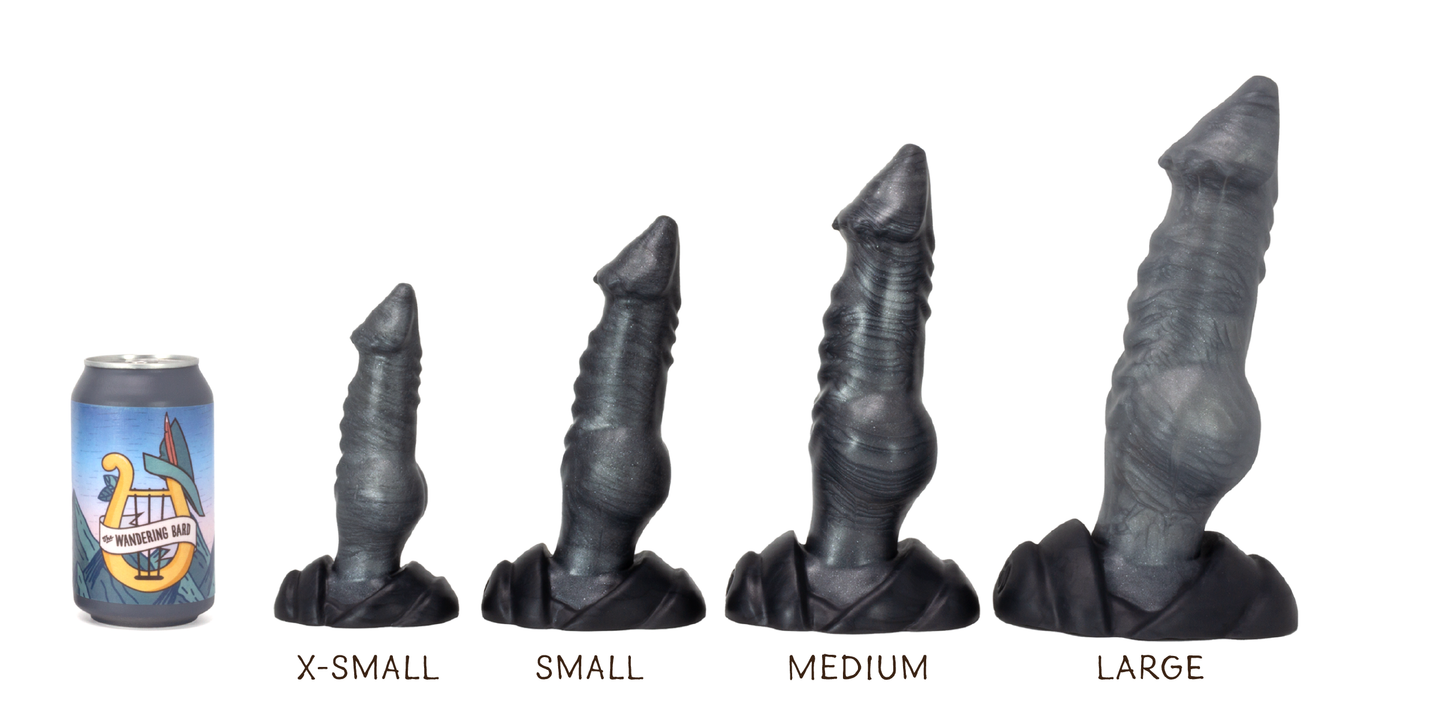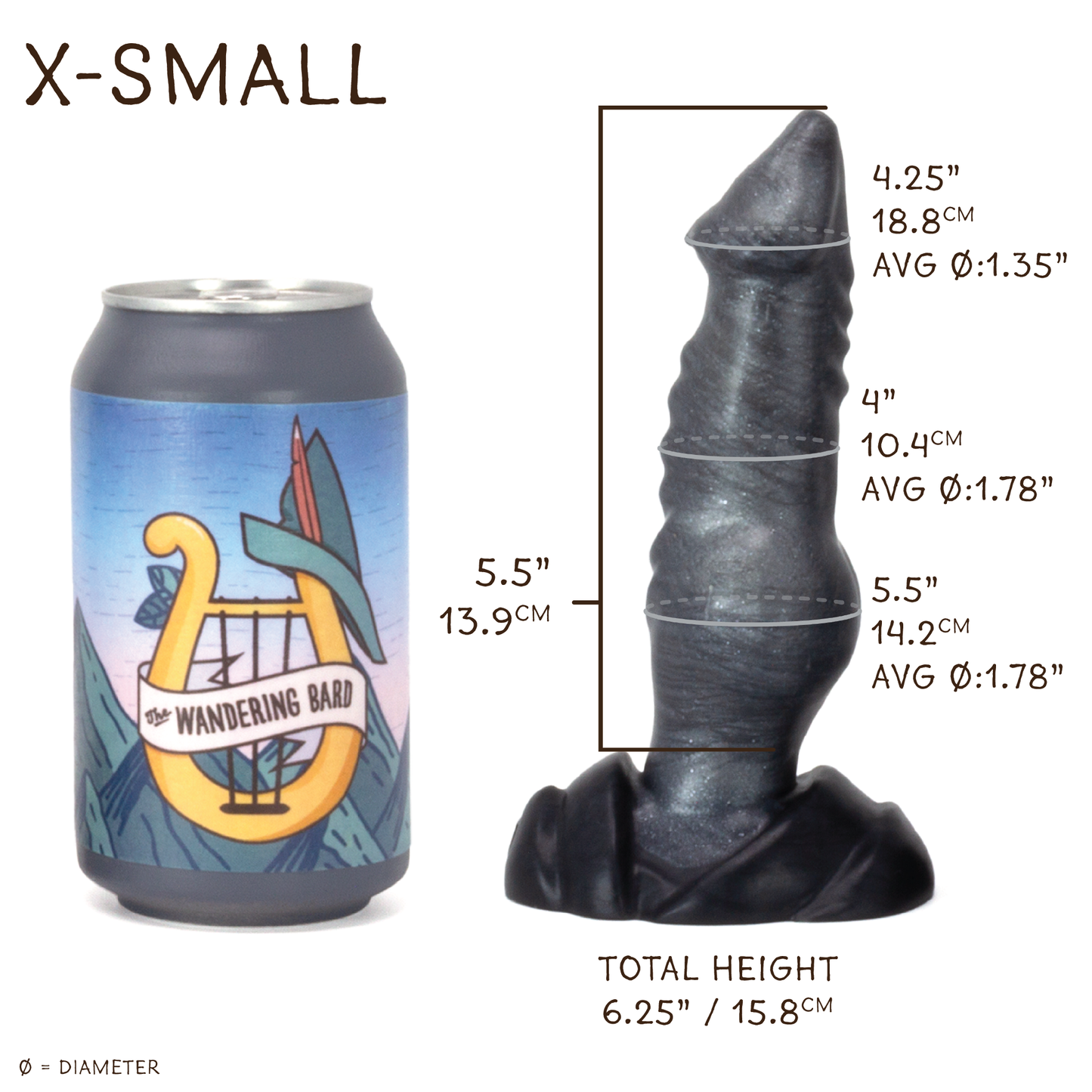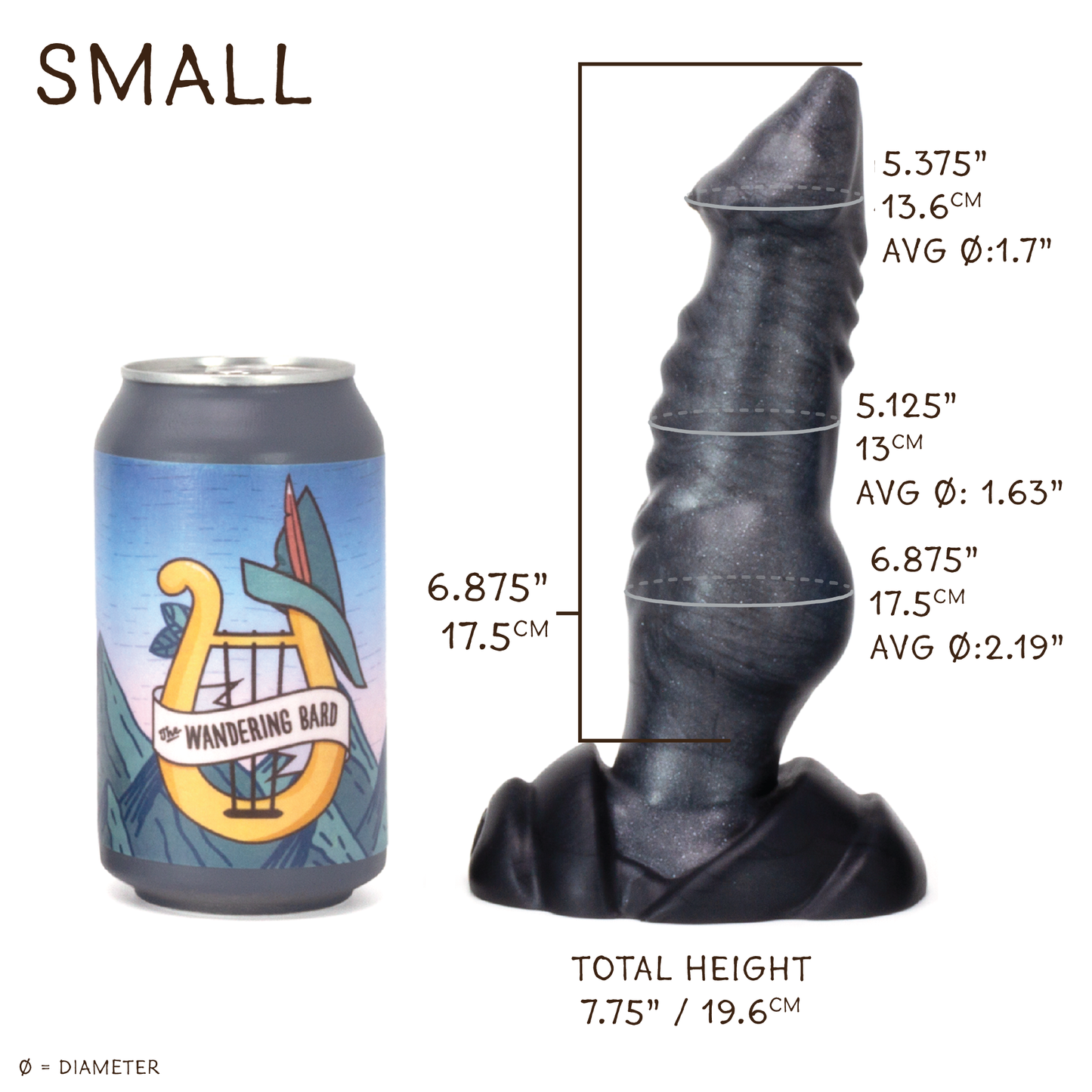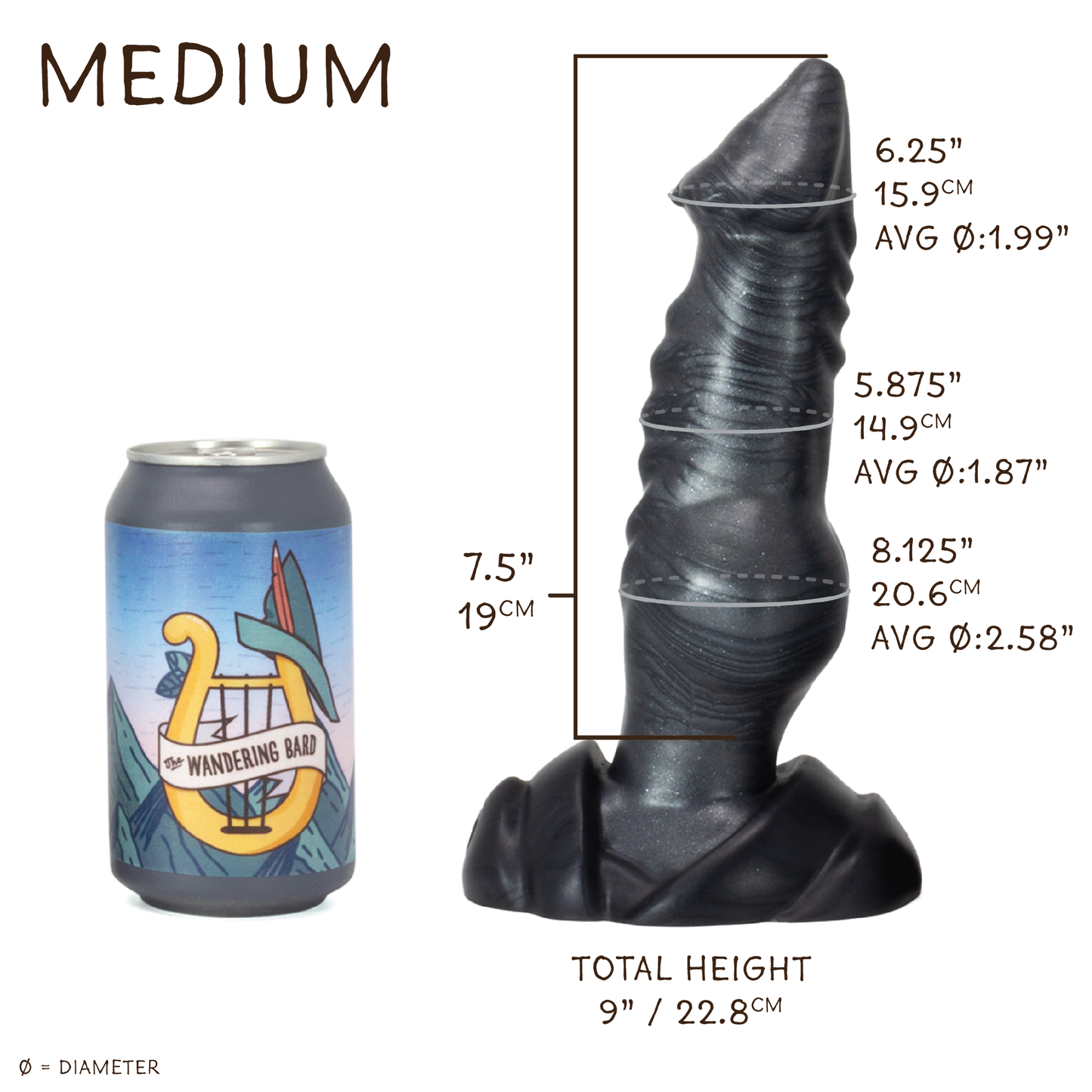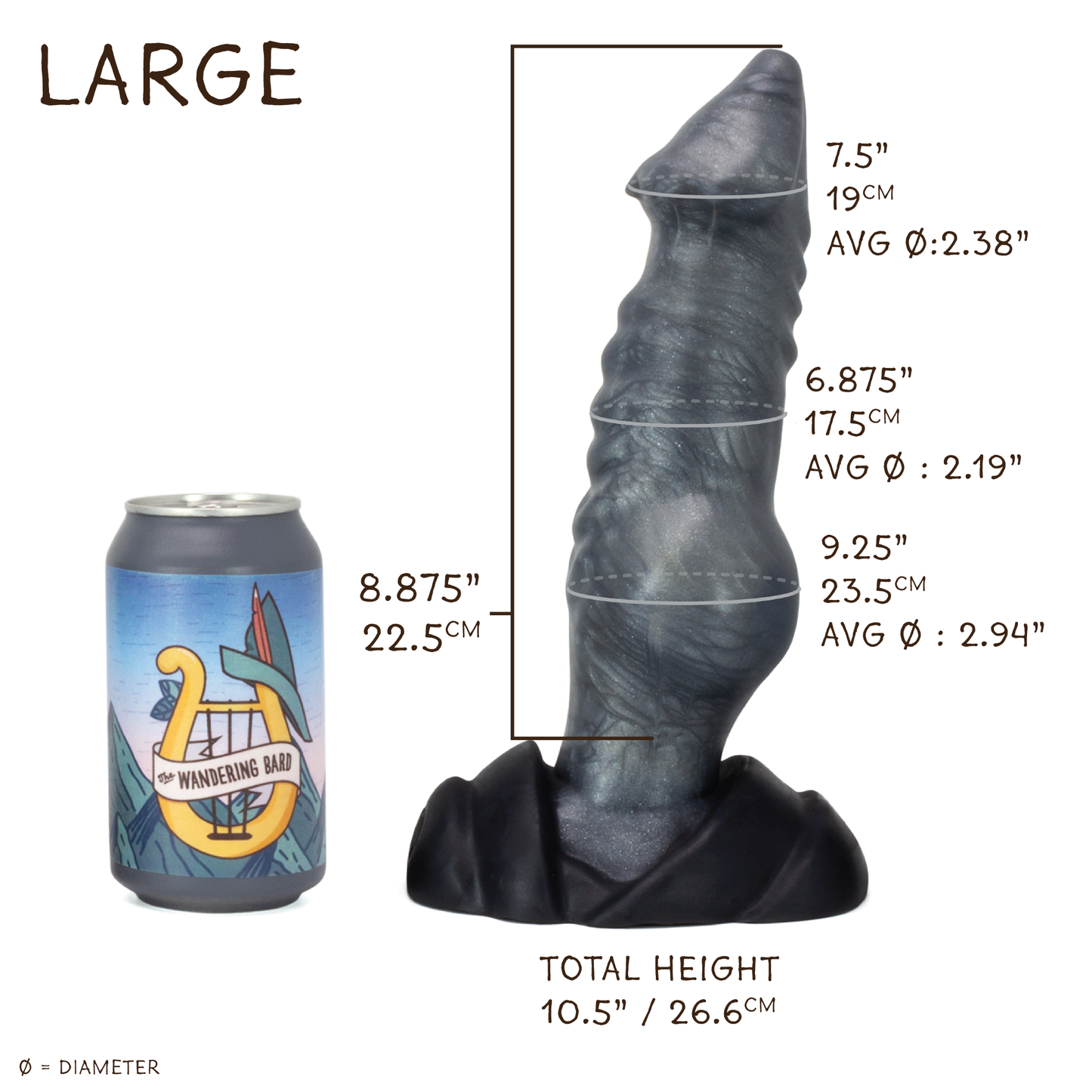 Can't Decide?
Check out our premade inventory!
Lovely but not for me.
TRUE CUSTOMS, AWESOME CUSTOMER SERVICE! If you can imagine it, they'll make it happen! Excellent communication and FASTEST CUSTOMS EVER!
He looks GRRREAT! Wandering Bards are always so beautiful:) The ridge of the head is quite prominent and I found it uncomfortable coming out, kind of like a barb on a fish hook (but no where near that bad). If you like strong ridges, this is for you.
My first ever dilldo
Damn well I'm not great at these but wow I was blown away from the quality. Im a big texture guy and just loved them. Still working around the medium one but the small one fits like a dream.
Great!!
It's a gREAT toy. The only reason I didn't give it 5 starts is because it was supposed to be a glow in the dark one and it doesn't glow unfortunately. I still love it and the colors I picked are SO pretty in the light so I'm really not mad at all. I got the x-small and I will be sizing up very soon 😌
Amazing dragon buddy
(Bought from etsy almost 3 years ago, but finally saved up for a new toy and saw they have their own store now and i wanted to leave a review here too) Was my first ever custom toy and i love it, got the small size and wow. I may have underestimated the actual size lol, numbers dont really make sense in my brain in that regard, and i struggled with the knot at the bottom, still working on it haha! But it just incentivizes me to buy another toy from them that can help me work my way up ;) trust me u wont be dissatisfied if you buy from them!
Perks of dragon model: great feel, love all the textures and the little divot at the tip is so much fun if u wanna put it in ur mouth :P also very sparkly! I got the grey version actually, just like in the advertisement pics bc im horrible at decision making and silver is my one of my favorite colors anyway. It was still super glittery and very beautiful and swirly! Definitely for the dragon lover in you!
Things to consider about dragon model that may or may not be for you: the tip is pointed into a wide flare that can feel sudden. No prob if you're prepped and ready to go tho! It does create a sort of locked in resistance/stuck feeling when pulling out. I personally like that, needs a bit of a tug for it to pop out. But def something to keep in mind. Also keep in mind the knot at the base. Fun I'm sure if you're used to stuff like it! Certainly a challenge if you're not, but the toy overall is still very pleasurable even if you don't use the knot.
Hope this helps any potential buyers!
Excellent price, and amazing quality
I have bought other fantasy dildos from the well known brands, and this one has by far been the best in terms of price and quality.
The silicone feels great, the shipping was surprisingly fast, and the design of the toy is great.
I am going to have fun trying to get this knot in me