Conjure up a magical night of pleasure with the Custom Basilisk! Crafted from platinum silicone, this fantasy sex toy is sure to bring you an enchanted evening of ecstasy! All your sensual dreams can become reality! (We won't tell if you won't.)
This monster dildo features a rounded tip, a curved flared shaft with ridges & bumps meeting a flared base.
4 Sizes to fit any adventurer
X-Small
Small
Medium
Large
3 firmness options to choose from, this may feel firmer with bigger & thicker toys.
Super Soft 00-20 - Feels similar gummy candy

Soft 00-30 - Feels similar to a gel insole.

Medium 00-50 - Feels similar to a rubber eraser
Customize to fit your fantasy with a wide variety of colors and pour styles to chose from.
This is a hand poured made to order item, production time may vary.

All of our fantasy adult toys are made with body safe platinum cure silicone and ship discreetly in a plain brown box!
Please review our Shop Policies before purchasing
Sizing
Approximate Measurements
Basilisk X-Small:
Mid-Head Circumference: 4.5" / 11.3cm ; Avg Diameter: 1.42"
Mid-Shaft Circumference: 4.25" / 11cm ; Avg Diameter: 1.38"
Above Base Circumference: 6" / 15cm ; Avg Diameter: 1.88"
Usable Length: 4.5" / 11.5cm
Total Length: 5.75" / 14.5cm
Basilisk Small:
Mid-Head Circumference: 5.125" / 13cm ; Avg Diameter: 1.63"
Mid-Shaft Circumference: 5" / 12.5cm ; Avg Diameter: 1.57"
Above Base Circumference: 6.875" / 17.5cm ; Avg Diameter: 2.19"
Usable Length: 5.875" / 15cm
Total Length: 7.5" / 19cm

Basilisk Medium:
Mid-Head Circumference: 6.125" / 15.5cm ; Avg Diameter: 1.94"
Mid-Shaft Circumference: 5.875" / 15cm ; Avg Diameter: 1.88"
Above Base Circumference: 7.875" / 20cm ; Avg Diameter: 2.50"
Usable Length: 6.75" / 17.1cm
Total Length: 8.75" / 22.2cm

Basilisk Large:
Mid-Head Circumference: 7.25" / 18.5cm ; Avg Diameter: 2.32"
Mid-Shaft Circumference: 7" / 18cm ; Avg Diameter: 2.26"
Above Base Circumference: 9" / 23cm ; Avg Diameter: 2.88"
Usable Length: 7.875" / 20cm
Total Length: 10.25" / 26cm
Color Chart
Pour Styles
To see more info about our pride pours please visit our blog post here: Pride Pours Are Here!!!

Standard Pour Styles
Split : The shaft will be the first color choice, and the base or slightly above will be another.
Swirl :  Your two color choices are swirled from top to bottom of the pour.
Marble Fade : Color 1 of your choice will be at the top, with a slight marble as it fades into color 2.
Marbled Swirl : The colors are Swirled, with a decent amount of marbling happening, as well as some overlap.
Full Marble : The two colors are marbled Randomly throughout the whole monster.
Surprise Me : Give us colors you like and don't like, and we will pick a pour style for you!
Regular price
Sale price
$65.00 USD
Unit price
per
Sale
Sold out
View full details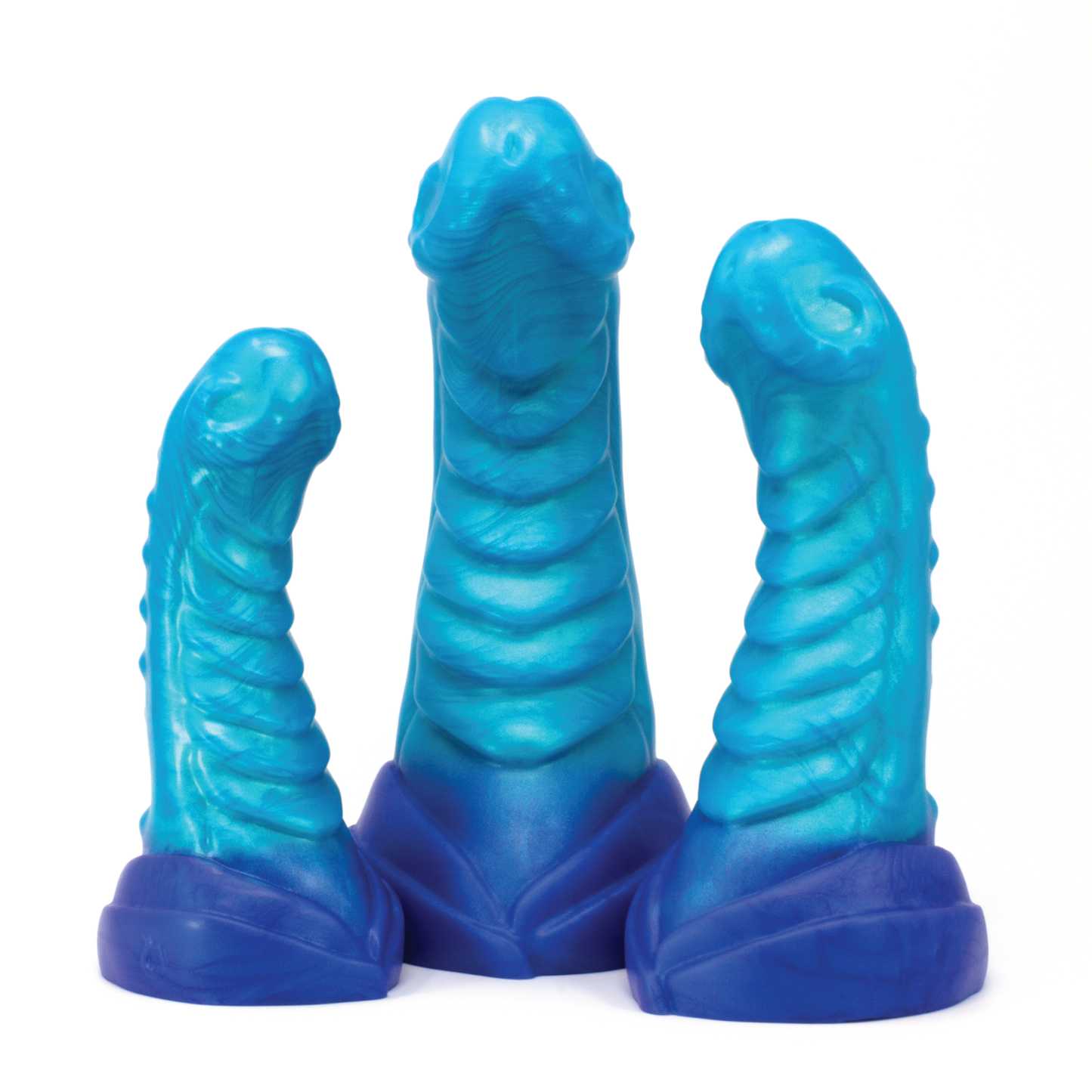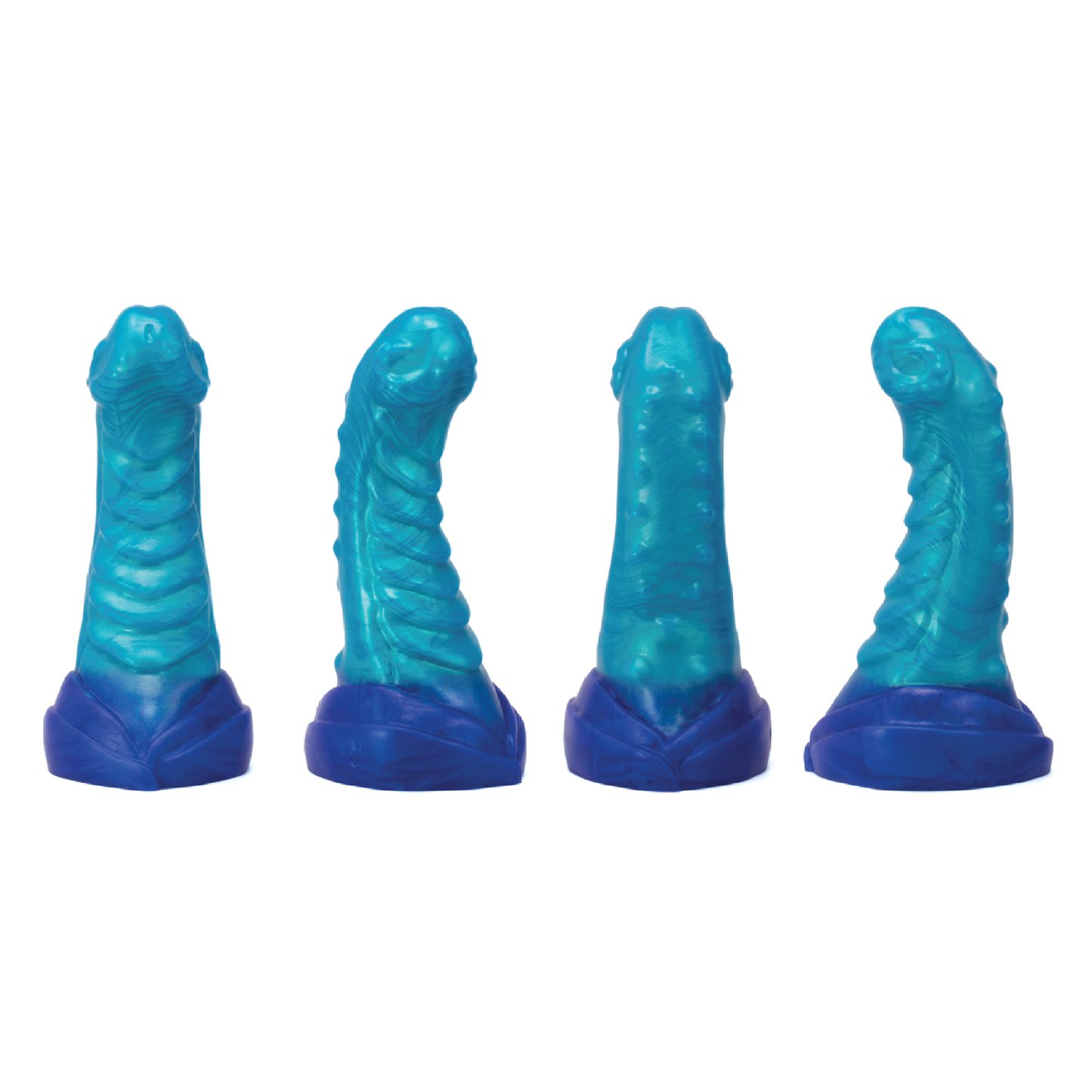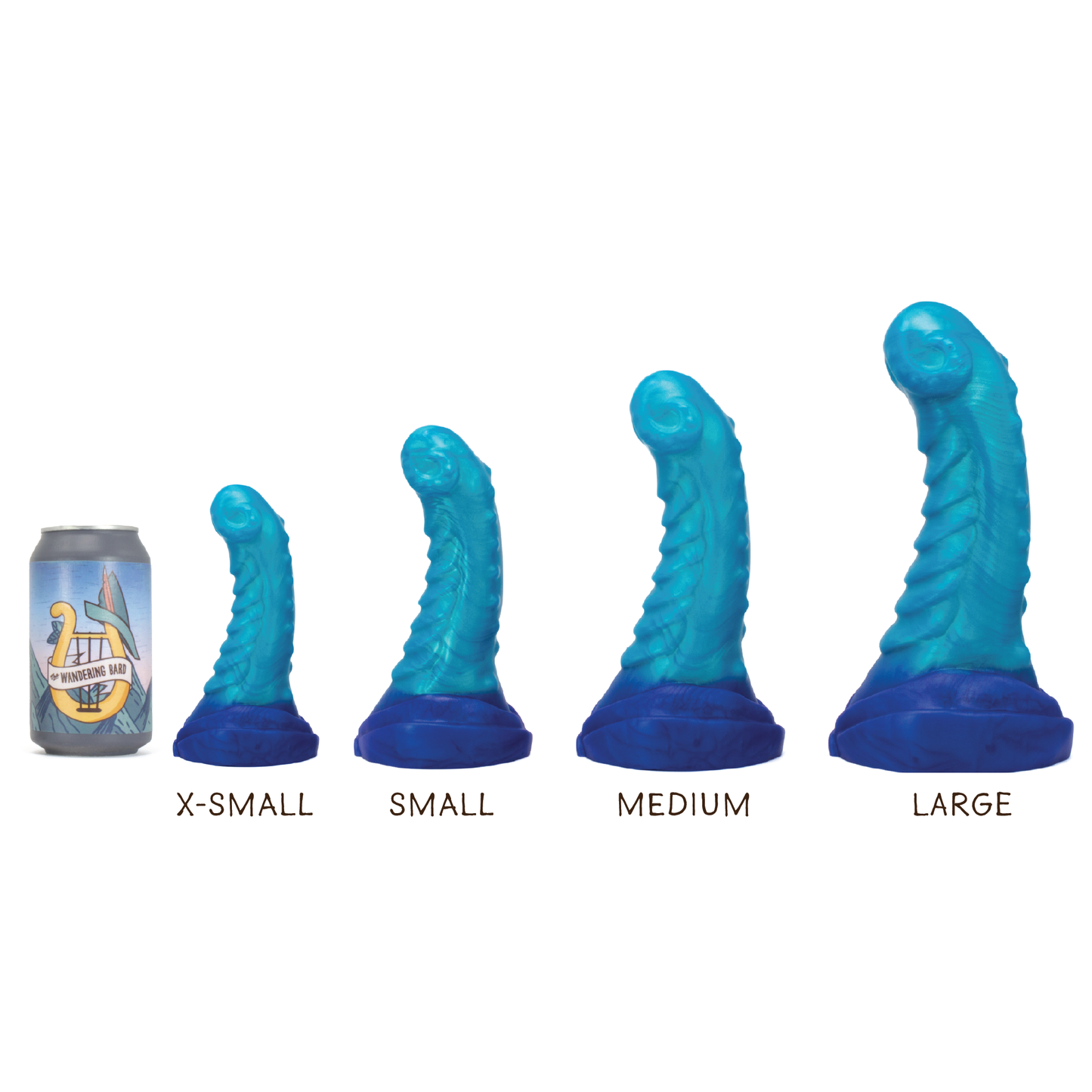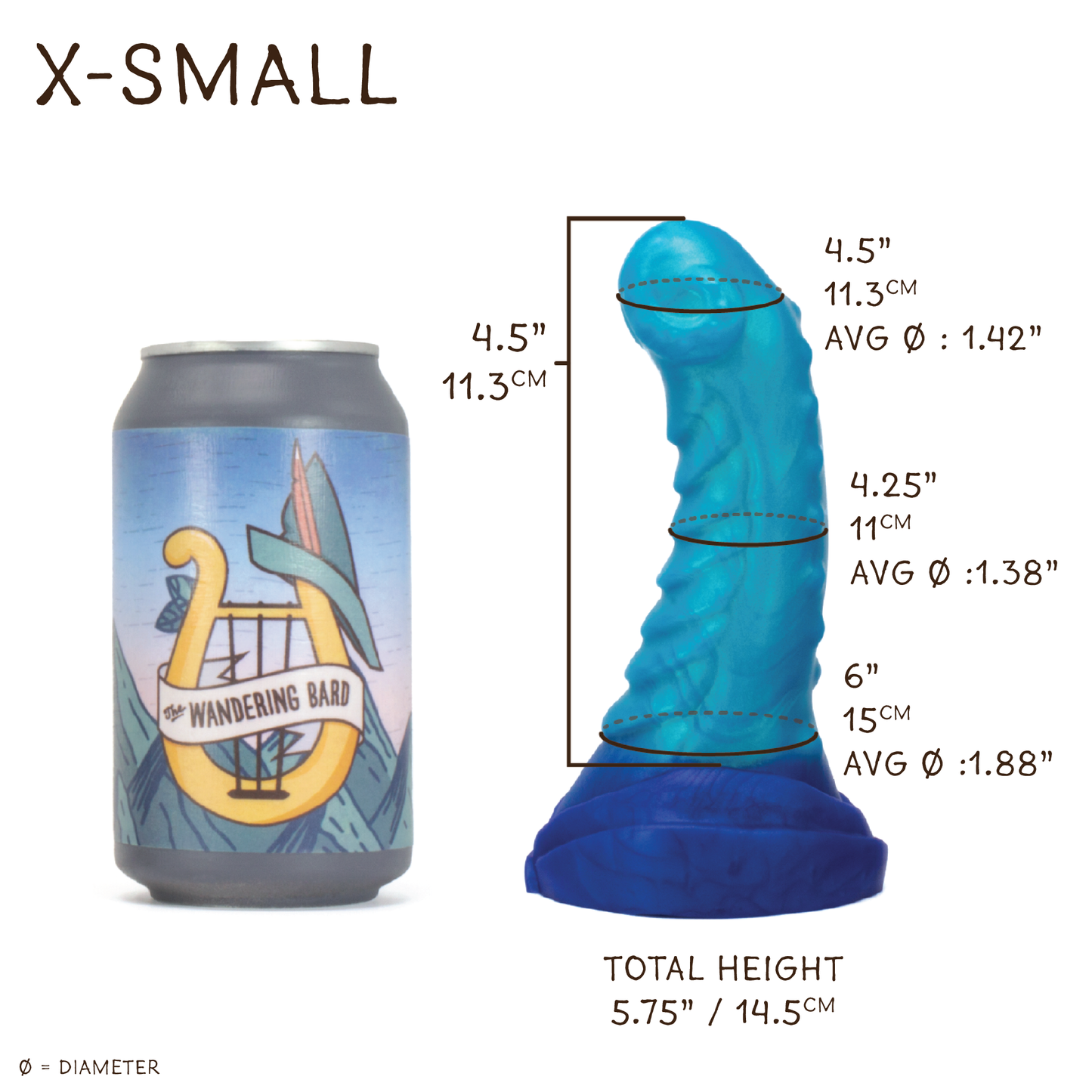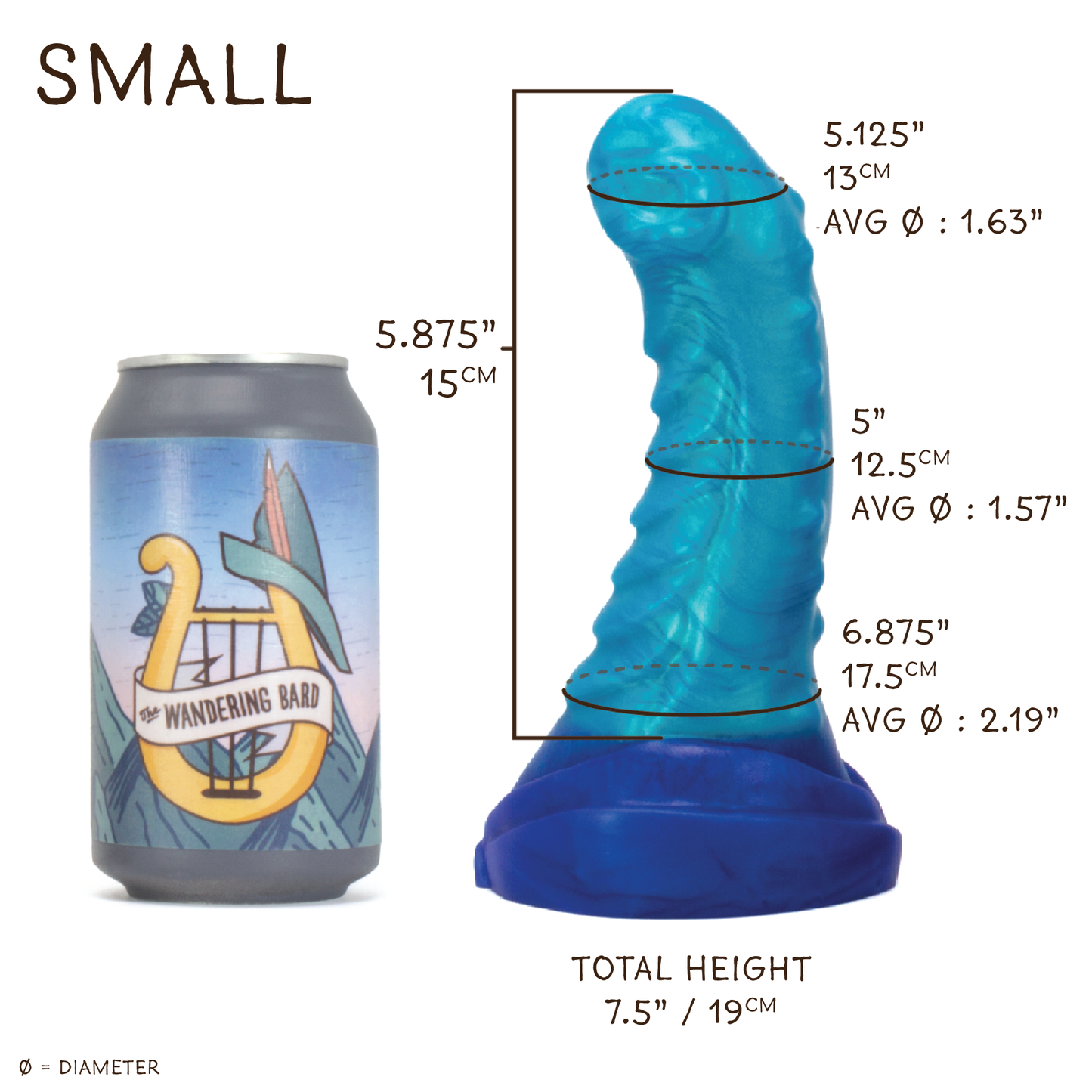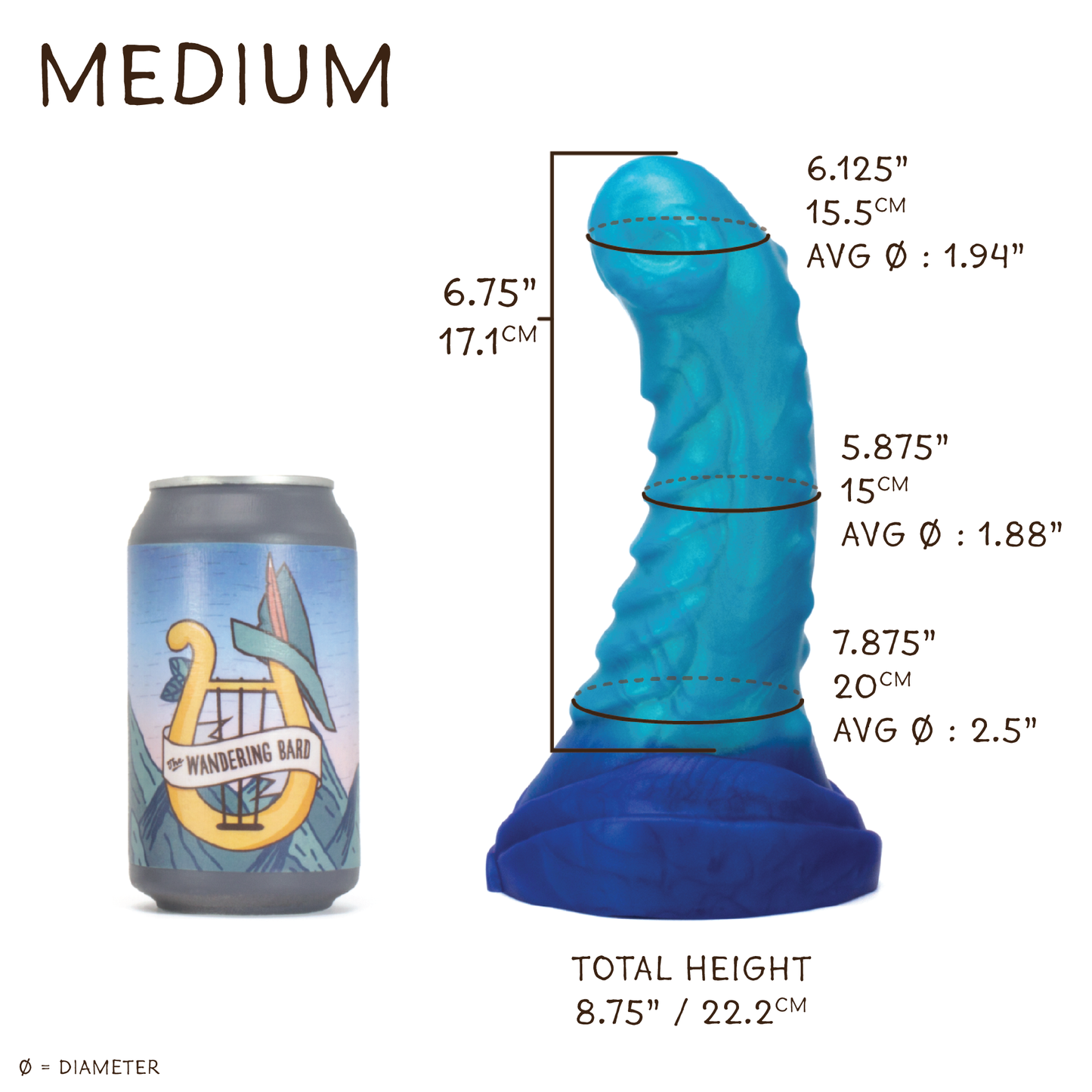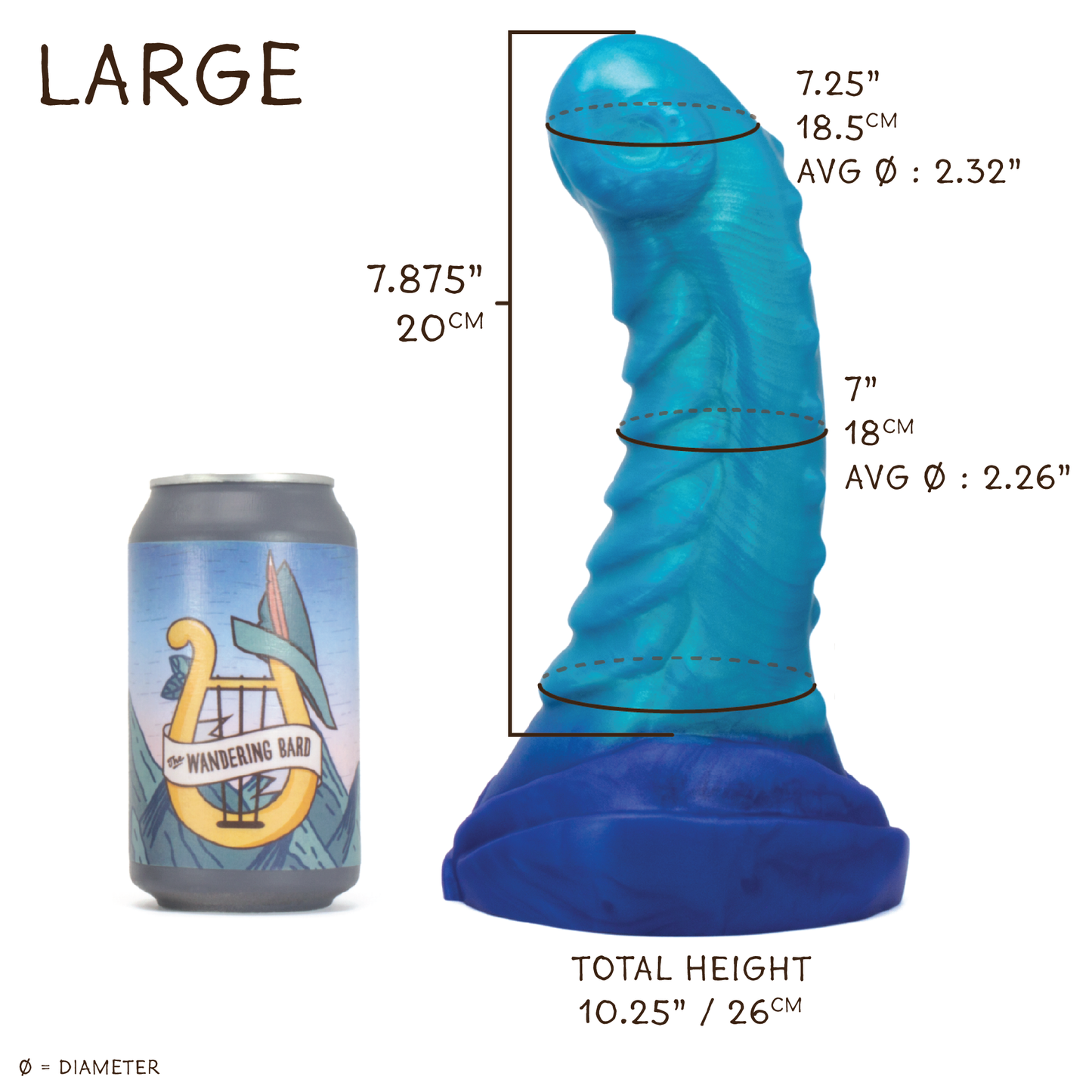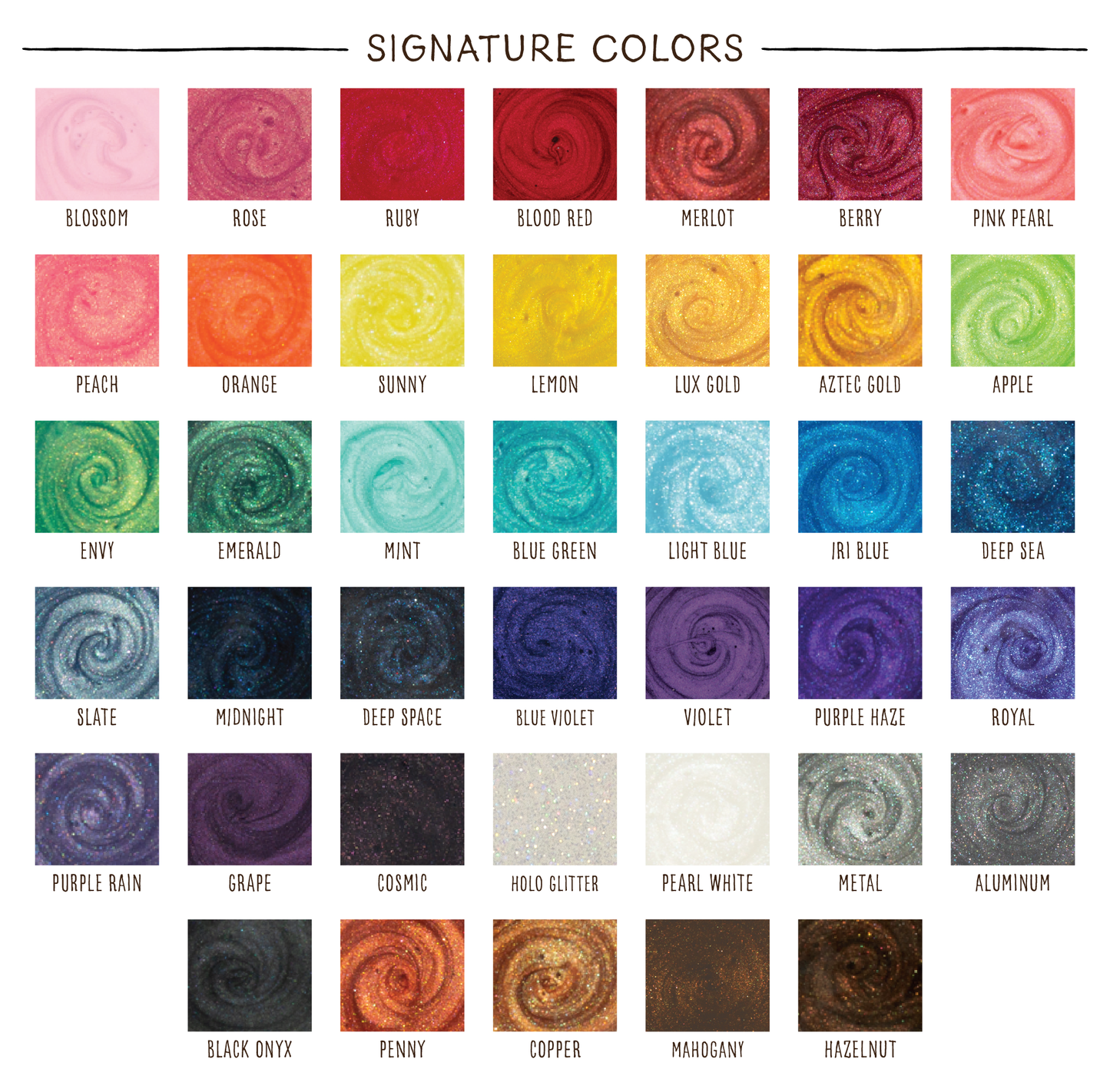 Can't Decide?
Check out our premade inventory!
I had to get two, and worth every penny!
TRUE CUSTOMS, AWESOME CUSTOMER SERVICE! If you can imagine it, they'll make it happen! Excellent communication and FASTEST CUSTOMS EVER!
So, never shop hungry. My eyes were bigger than my *ahem..*
First I ordered a medium, it was right on the borderline of my personal size guide...But alas, I opened the box and said "Well that's not going to fit in there..." So ordered a small, 'adolescent' version of the original in lighter colors, they are just stunning! Small was much more comfortable...and also made a nice warm up for the bigger one! So now it's a two-stage experience everyone should try :)
Threw out my other toy
I got mine back in October and I ABSOLUTELY LOVE IT!!! It's super fun to let my husband use on me too. Love the texture, and the weight? Chefs kiss!
Absolutely fantastic all around.
My wife not only loves the way it came out looking, but the texture and the weight of it as well. This is the first fantasy toy she has ever received or used and she is on the stars with it. We will be ordering more!
Custom Basilisk
They weren't kidding when they said these toys came out super glowy. This toy is really pretty in normal light, but the glow is WOW. Even after a brief charge the thing is like a nightlight. The Bards are always a joy to work with as far as customs go, they always knock it out of the park!
5 Stars All Around!
This whole experience from end to end was a 10 out of 10 for me! I ordered a complicated custom, as I am known to do, and it was finished and on its way to me in about a day. The bards were easy to contact, responded fast, and willing to try an accommodate my vague and wild request, and it turned out even prettier than I imagined!! Not only is it gorgeous but my S Basilisk is now among my top 3 fave toys- and I have Quite the collection haha.
I have and will continue ordering customs from this shop for as long as I'm able!